RENOVATION PROJECT
Private apartment, Portello, Milan
This apartment is located on the penthouse floor of a luxurious new housing complex on the outskirts of Milan and has spacious terraces, both on the floor and the super penthouse above.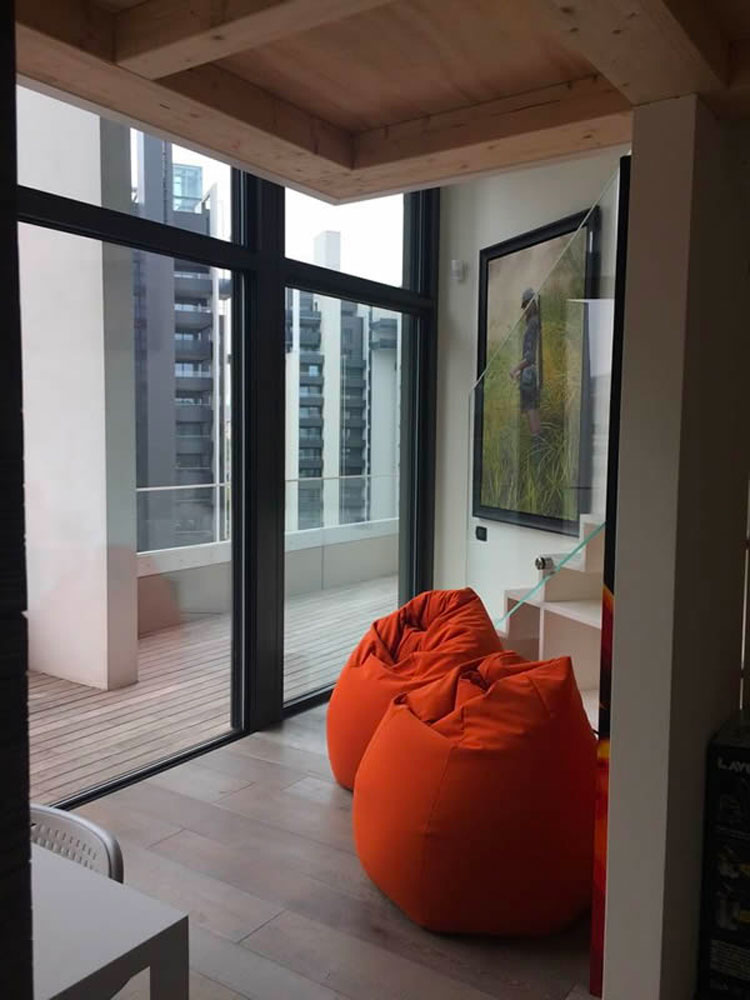 The peculiarity of the house is the huge windows on two sides with intense sun exposure, which required the application of high-performance thermal protection films on all window surfaces, even to protect the many valuable paintings on the walls.
The international contemporary artworks of the owner, a prominent Italian collector, guided the renovation concept, which, however, was intended to have a strongly biocompatible footprint. All natural materials, many recycled, were then chosen for the doors, cabinets, and furniture. The flooring throughout the house is beeswax-treated oak.
The kitchen is made of lacquered wood stained with special natural resins, while many accessories, such as the sofa side tables or the pedestals of some paintings, are made of raw waxed metal.
Poltrona Frau's "tree" library is in the limited version produced in olive wood. All the coloring on the walls was done in natural paints, and the following color fields were designed to generate volumetric illusions to enhance the paintings. Each color and dimensional choice were verified in its anthropic and environmental load effectiveness using Goldmann & Partners Best Performance Navigator® scientific protocol.
On the upper floor, a large terrace was created as a garden with marked therapeutic properties aimed at relaxation and meditation through the selection of tree species particularly endowed with relaxing scents distributed as blooms throughout the different seasons of the year.